Hitrecord on tv
season 1 box set
on sale now!
The Official Companion to the Emmy Winning First Season of
HITRECORD ON TV
• 9 Collectible Books

8 Theme Books for Each Episode plus "Making HITRECORD ON TV"

• 8 Episodes

Digital Download Code for All

• 17 Songs

Download Code for Every Song Featured on HITRECORD ON TV

• Plus!

Bonus content: 6 special 'making of' videos not shown on TV
Order your SEASON 1 BOX SET through Diesel Bookstore and receive the ORIGINS 7" Vinyl FREE!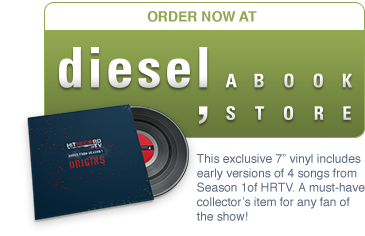 This offer is available exclusively through Diesel Bookstore online, to the first 500 copies ordered.
ALSO AVAILABLE AT THESE FINE RETAILERS
And now, a few sample pages while you wait...
More about Hitrecord on TV
HITRECORD ON TV is a new kind of variety show. Join host Joseph Gordon-Levitt as he directs a global online community of artists to create eight episodes of television--all made collaboratively. Each installment focuses on a different theme and features short films, live performances, music, animation, conversation, and more!
HITRECORD ON TV invites anyone with an internet connection to contribute, create, and develop art and media collectively through hitRECord.org, an online collaborative production company that brings together artists from all over the world to participate in the creative process, bridging cultural divides and false distinctions that separate professional artists from those who simply love to make art.
"A breath of fresh air…"
- USA Today
"I was blown away. It's totally different…"
- The Wall Street Journal
"At a time when television is defining its identity… HITRECORD ON TV aspires to be the agent of change in the digital world."
- Los Angeles Times