Waterfall Jump
One of the most courageous things I've ever seen

Teafaerie and I met this girl while ziplining in costa rica.
We'd gotten to the end of the (zip) line and the ground stopped for a loungey waterfall break. there was a nice spot for jumping from cliff to pool.

This girl got up to the top and her friends were shouting encouragement to her. she was clearly afraid of jumping.
she summed up the courage to do it and the whole place erupted in cheers.

I talked with her about it after and was awed.
She almost drowned several times as a child.
As such, she's had a life-long fear of water and never learned to swim.

On top of the 3ish meter jump over the rocks into the water, which made even the bravest of jumpers a bit nervous, she was overcoming a life-long fear of water. AND she was jumping into water knowing that she had no way of surviving to the shore. She had to trust her friends to save her and pull her to the shore.

I'm so so impressed.
Video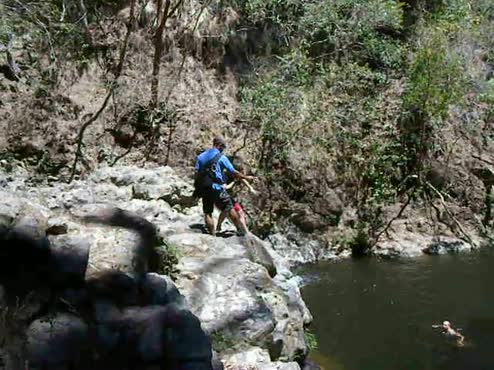 Created: Mar 17, 2009
Video Media
Related Records: