Sneak Peek – New Site Features!
Just wanted to post a little sneak peek of some super exciting new site features and big improvements we've been working the past few weeks on. This is nearly a month of work compressed into four minutes, but starting next week I'm planning to start releasing a series of videos and mock-ups of all sorts of improvements and all new features because we really want to get feedback, suggestions, and gauge how popular various new features are as we start to prioritize development.
I think we all realize that, as our community continues to grow, and with now having produced two seasons of television, we've simply outgrown the limits of the existing site. So we've been reading through all the suggestions, survey responses, and also fundamentally re-evaluating the workflows that have evolved as we all use the site to make things together. This current site design work represents both some fundamental improvements to our core features, making them easier, more intuitive, and better looking / functioning for new users and "power users" alike. But additionally we've also got a number of brand new features and functions developing — all aimed at making the primary goals of COMMUNICATION and COLLABORATION easier, which I couldn't me more excited about.
These are all sorts of new things (some long overdue) like @-reply messaging, better notifications, ability to track projects and collaborations, collaboration updates and status information, supporting requests and challenges directly with more granular resources, deadlines, skill set targeting, and "remix crates" for managing the basic workflow of resource compiling, downloading, and citing, (and, of course, MORE!). Most of these new features have largely come from simply watching how you guys actually use (and hack) the site to collaborate, and then finding ways to directly support and improve these natural patterns.
ANYWAY, as you can tell, I'm pretty excited about this stuff and can't wait to actually show and discuss these features in detail in coming videos (not flying by at 3000x speed :)
I loved the recent collab on the temporary landing page header where everyone jumped in to remix themselves in. As I've been working on these designs I've had that image in mind. Not only is our creative work collaborative, but our website itself should be. So many websites do all their development work internally and then release drastic updates with little warning, but I really like the idea of sharing this work in progress and having a dialogue (a collaboration). With that in mind, not everything you see here is necessarily finished or guaranteed to make it into development — but that's the whole point... to discuss, refine, prioritize and work together to make our little creative home here a better place!
Video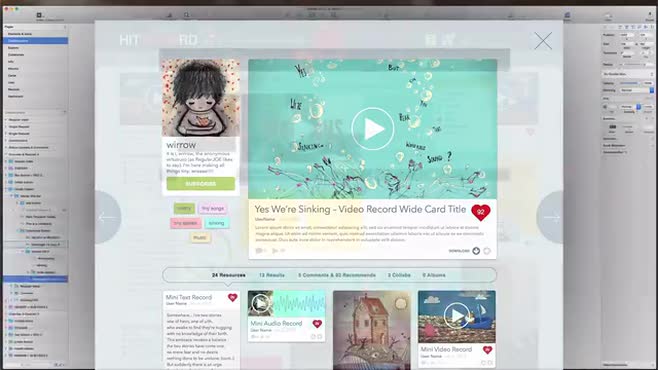 Created: Apr 10, 2015
Video Media
Related Records: